Today, the Midwest Glacial Lakes Partnership (MGLP) announced over $270,000 in grants funding fish habitat science, outreach, and on-the-ground conservation. The MGLP operates an annual grant program through the National Fish Habitat Partnership, whereby it directs dedicated funding from the US Fish and Wildlife Service to recipients that the MGLP identifies. See the project descriptions below to learn a little more about the work we're funding. We'll announce our request for fiscal year 2019 proposals in August using our email list; sign up if you have not already!
Promoting Bioengineering Options for Erosion Control on Michigan Inland Lakes – Tip of the Mitt Watershed Council
The Tip of the Mitt Watershed Council in Michigan will work in partnership with state agency staff and natural shoreline practitioners to develop two documents for practitioners summarizing bioengineering erosion control design options. The first document will provide information on bioengineering across the spectrum of wave and ice energy that a shoreline experiences, and the second document will focus specifically on high-energy shorelines. The information will also be promoted through a webinar that will be advertised to partners via the MGLP newsletter.
Lake Carlos fish passage project – Minnesota Department of Natural Resources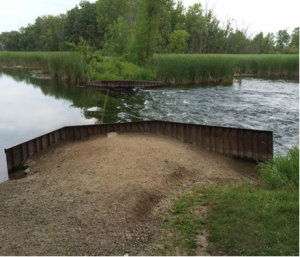 A dam at the outlet of Lake Carlos to the Long Prairie River currently blocks fish such as Walleye, Northern Pike, and multiple sucker species from entering the lake. This project will enable fish passage by installing a rock arch ramp at the site of the dam. The project will also benefit the rare Creek Heelsplitter and Black Sandshell mussels by providing access to habitat in Lake Carlos tributaries.
Assessment of oxythermal habitat of Cisco in Minnesota lakes for prioritizing habitat protection efforts – Minnesota Department of Natural Resources
Species such as Walleye, Lake Trout, and Cisco rely on cold, well-oxygenated water to grow and survive, yet climate and land use change threaten these habitat types. Rising annual air temperatures are resulting in warmer lakes, and nutrients from disturbed land reduce oxygen available for fishes. How these long-term patterns affect fishes is difficult to predict and changes throughout the season. This project will assess water temperature and dissolved oxygen continuously throughout the summer in six Minnesota lakes. It will help develop understanding of how precipitation and other short-term events affect fish habitat in combination with climate change and water quality threats facing lakes across the MGLP, so that habitat conservation efforts can be prioritized.
Assessment of critical thermal fish habitat in Midwest Glacial Lakes Fish Habitat Partnership lakes (Phase II) – United States Geological Service
Changing climates are expected to dramatically affect fish throughout the MGLP, and the first step in predicting the magnitude of these effects is to understand past and current water temperatures that create thermal fish habitat. This project will gather existing water temperature, oxygen, and water quality data in North Dakota, South Dakota, and Iowa and use this information to create statistical models of these variables to predict past, current, and future thermal fish habitat throughout the MGLP. This project builds upon data being gathered in Phase I for Minnesota, Wisconsin, Michigan, and Indiana.
Reconnecting Mason Creek to Duck Lake Restoration Project – Conservation Resource Alliance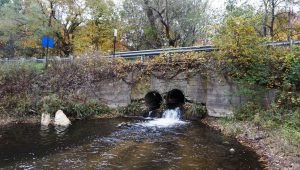 Mason Creek drains into Duck Lake, MI, but fish in the creek are not able to migrate to and from the lake due to perched culverts at a road crossing. This project will remove the culverts and replace them with a bottomless structure that allows for fish passage. Over 8 miles of habitat will be made accessible to fish in 1,930-acre Duck Lake and 5 tons of sediment will be prevented from entering Duck Lake due to the road-stream crossing.
Building capacity for Midwest Glacial Lakes Partnership conservation – Michigan Department of Natural Resources
This project will support the MGLP's mission of fish habitat assessment and conservation implementation in glacial lakes of the Midwest by addressing basic database management needs. Specifically, the MGLP will 1) collect existing data from partners to update datasets and fill gaps in the database to support future assessments and 2) update of existing GIS data layers for use by the MGLP. These actions will help the MGLP to better assess fish habitat threats and conditions through its assessment and web viewer, thereby improving efficiency and efficacy of projects funded by the MGLP.