Lakes are always changing—development, new residents, and climate change are some of the causes. Lake organizations are on the front line of these changes, seeing the introduction of novel species, more frequent algal blooms, and different recreational uses of lakes. Researchers at Arizona State University's School of Sustainability and the Cary Institute of Ecosystem Studies have developed resources for you to use in lake management planning to help build the resilience of your lake and organization. Whether you are a lake organization member, environmental educator, or you have an interest in protecting lakes—we are excited to share these resources with you in the Lake Resilience and Systems Thinking Resource Hub.
This resource hub shares a set of workshop videos, scenarios, and compiled tools that introduce resilience and systems thinking concepts and apply them to common challenges that lake organizations face. The materials are designed to be used in lake-management planning to facilitate discussions about long-term changes that lakes and organizations may experience. We encourage you to use these resources in discussions with your organization members and your partners. These discussions may focus on a specific, existing issue, or they could be used to direct preemptive planning.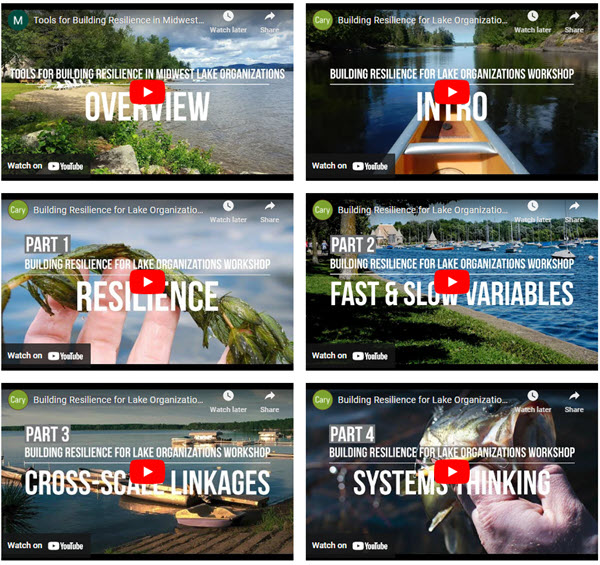 At the resource hub, there are six videos that introduce and apply concepts related to resilience and systems thinking. These short videos cover resilience, fast and slow variables, cross-scale linkages, and systems thinking.
Additionally, there are four sets of scenarios you can use to apply to the concepts to common challenges. These two-part scenarios introduce a scenario and questions to consider. The scenarios are meant to open fun conversations between you, your members, and partners about the changes you may experience and how you may respond. The scenarios are managing aquatic invasive species, healthy fisheries, water clarity, and lake population changes. You'll also find a list of general and state specific tools to aid in lake management planning discussions.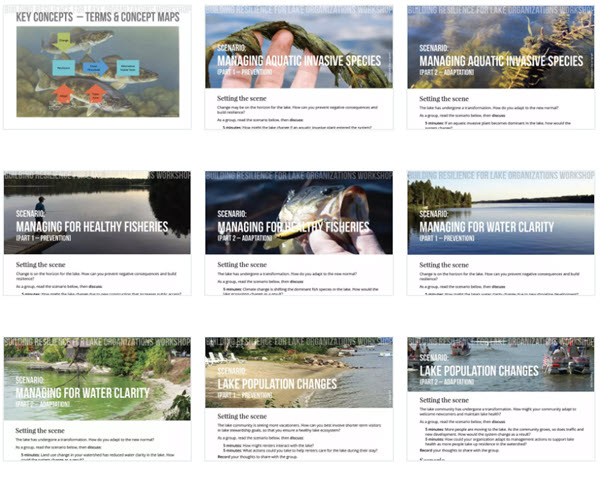 The Lake Resilience and Systems Thinking Resource Hub was featured in an MGLP Lake Conservation Webinar. To hear project team members Eve Whittaker and Chris Solomon talk about the project and their experiences implementing these resources, check out the webinar recording in our archives.