The National Fish Habitat Partnership has unveiled its annual list of "Waters to Watch", a collection of rivers, streams, estuaries, lakes and watershed systems that will benefit from strategic conservation efforts to protect, restore or enhance their current condition. These voluntary, locally-driven projects represent some of the top conservation activities in progress implemented throughout the country by 20 regional Fish Habitat Partnerships, including the Midwest Glacial Lakes Partnership.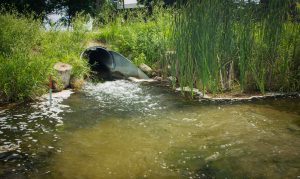 The Midwest Glacial Lakes Partnership is funding the replacement of an undersized and perched culvert at the outlet from Crane Lake with one that is more appropriately-sized, creating connectivity with waterbodies downstream. Minnesota DNR Fisheries Biologist Howard Fullhart explains that, "The undersized culvert creates high water velocities that fish can't swim through, and when water flows are low, the culvert is perched and so fish aren't able to pass. The new culvert will allow fish passage for walleye, northern pike, white suckers, darters, shiners, and other important fishes." Crane Lake currently has lower populations than downstream lakes of migratory fish species such as walleye, white sucker, and weed shiner, a species of greatest conservation need in Minnesota's State Wildlife Action Plan. The project is expected to increase fish community diversity and resiliency in Crane Lake by allowing fish to migrate into the lake.  "This is a really neat project," says Fullhart, "in that it was started by the local citizens who were concerned about fish passage and the road potentially washing out. County engineers, the Minnesota DNR, and the Midwest Glacial Lakes Partnership are all providing funding and resources to the project to benefit natural resources, transportation, and surrounding property owners."
Conservation projects, such as the Crane Lake culvert replacement, benefit the Waters to Watch by conserving freshwater, estuarine and marine habitats essential to the many fish and wildlife species that call these areas home.  These examples of conservation have been fundamental to the overall success of the National Fish Habitat Partnership since 2006.
Over time, these conservation efforts are reversing persistent declines in our nation's aquatic habitats. Having featured over 100 partnership projects since 2007, these "Waters to Watch" are proving that science-based on-the-ground conservation efforts are truly making a difference in improving fish habitat across the United States.
"We are pleased to continue our Waters to Watch Campaign for the 11th year in 2017," said Tom Champeau, Chair of the National Fish Habitat Board. "The "Waters to Watch" campaign is one of our best ways nationally to highlight the work of our 20 partnerships annually."
People interested in learning more about the National Fish Habitat Partnership and partner projects happening across the U.S. can find out more information on how to get involved on our Partnerships Page;  http://www.fishhabitat.org/the-partnerships/.
If individuals are interested in contributing to the work of the Midwest Glacial Lakes Partnership, a 501(c)3 organization names Beyond the Pond for this purpose. Donations can be made to the Midwest Glacial Lakes Partnership at the Beyond the Pond website.