You may have heard that the Midwest Glacial Lakes Partnership funds habitat conservation through its grant, but did you know the Partnership catalyzes habitat conservation in other ways? With assistance from the Partnership, Clear Lake Township Land Conservancy in Indiana was recently granted an award from the FishAmerica Foundation supported in part by the Brunswick Public Foundation to complete its fish habitat conservation project .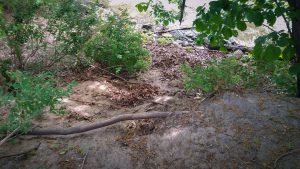 Residents, anglers, and lake recreationists on Clear Lake were concerned about the water quality of their aptly named lake. Erosion on a popular boating destination, Kasota Island Nature Preserve, was causing excess sediments and nutrients to enter the lake, which threatened to decrease water clarity and water quality. The Conservancy applied for the grants through the Midwest Glacial Lakes Partnership and Indiana Department of Natural Resources, but was looking for additional sources of funding. The Partnership shared the FishAmerica Foundation grant opportunity with the Conservancy, and wrote a letter of support on behalf of the project. As a result, the Conservancy acquired all of the funds it will need to install a bioengineered shoreline and complete its project!
"Collaboration on large scale projects is key for organizations as small as ours," says Bridget Harrison, Executive Director for Clear Lake Township Land Conservancy. "We appreciate all of the partners helping to make this project possible and working with the Midwest Glacial Lakes Partnership has been wonderful. We appreciate their letter of support and endorsement of our project. The shoreline restoration project along Kasota Island Nature Preserve will not only improve water quality but it will ensure that the island is here for future generations by minimizing the current loss of 4 inches of shoreline per year. "
The Midwest Glacial Lakes Partnership is happy to support projects that align with its mission to protect, rehabilitate, and enhance sustainable fish habitats in glacial lakes of the Midwest for the use and enjoyment of current and future generations. The partnership has written letters of support for research projects and on-the-ground habitat projects. If you have a project that needs support or a grant that needs to be distributed broadly, consider reaching out to Joe Nohner, Partnership Coordinator, for more information.