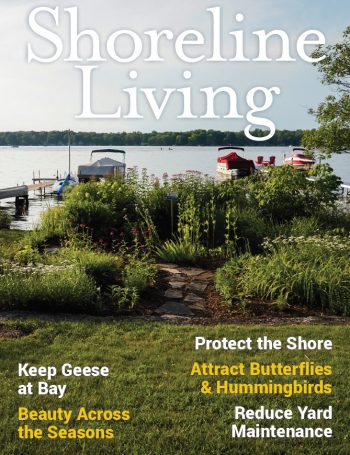 The Midwest Glacial Lakes Partnership is proud to share this Shoreline Living booklet, which provides examples of everyday shoreline property owners that dipped their toes into a natural shoreline.
The pictures and booklet were produced by a collaborative group of managers and outreach professionals across the Upper Midwest for property owners and lake professionals to print and use freely.
Download the web version here, or other versions at the links below.
There's something magical about spending time at a lake, whether you're swimming, boating, fishing, or just sitting and listening to the lapping waves. There are simple steps property owners can take to keep their lakes clean and healthy for generations to come. Shoreline Living shares the examples of five ordinary property owners who have done something extraordinary. Each is taking steps in their own way to do their part to care for the lake. From small steps on a relatively manicured property to an almost fully forested and natural landscape, the articles within feature the efforts of people just like you.
Traditional lake landscaping practices – large expanses of lawn, seawalls, and removal of aquatic plants – may be harming thousands of Midwestern lakes. While the ordered beauty of a flawless yard has its appeal, it's crucial to remember that lakes are living systems. What a lake's wild creatures need are leafy shoreline edges with aquatic plants where they can feed, rest and raise their young. What turtles and frogs need are natural shorelines where they can easily move from land to water and back again. What all lakes need is clean water to support the minnows, mayflies and other tiny organisms that sustain life up and down the food chain.
Follow along with each of these five property owners by clicking on their stories below
State Natural Shoreline Contacts
Want to learn more about natural shoreline programs in your state? Reach out to the contacts and programs below.
ILLINOIS
Program: Illinois Nonpoint Source Management
Website: www2.illinois.gov/epa/topics/water-quality/watershed-management/nonpoint-sources/Pages/default.aspx
INDIANA
Program: Lake and River Enhancement Program
Website: www.in.gov/dnr/fishwild/2364.htm
IOWA
Contact the Iowa Department of Natural Resources District Fisheries Biologist for your area:
Spirit Lake District: 712-336-1840
Clear Lake District: 641-357-3517
Black Hawk Lake District: 712-657-2638
MICHIGAN
Program: Michigan Natural Shoreline Partnership
Website: www.mishorelinepartnership.org
MINNESOTA
Program: Restore your Shore
Website: www.dnr.state.mn.us/rys
NORTH DAKOTA
Program: Save Our Lakes Program
Website: gf.nd.gov/plots/landowner/sol
Program: Watershed Management Program
Website: deq.nd.gov/WQ/3_Watershed_Mgmt/1_NPS_Mgmt/NPS.aspx
SOUTH DAKOTA
Contact: Jason Jungwirth, 605-223-7610, Jason.Jungwirth@state.sd.us
WISCONSIN
Program: Wisconsin Healthy Lakes Program
Website: www.Healthylakeswi.com
Resources for sharing
Please download, print, and share this publication
Print copies
Interested in getting printed copies? You can purchase them at cost from the Wisconsin Extension Lakes Bookstore or print the documents below.

Full document
• Low resolution version (12 MB)
• Web resolution version (26 MB)
• Professional print version (72 MB)

Chapters
• Landscaping to Keep Inland Lakes Alive and Beautiful (Web | Print)
• Building with Nature on a Waterlogged Site (Web | Print)
• Native Plants Stand Fast to Protect the Shore (Web | Print)
• Wildly Civilized: Native Plants for the Well-Ordered Yard (Web | Print)
• For a Wild Life, Let Natives Bring Wildlife to You (Web | Print)
• On Blue Lake, a Light Touch Keeps the Landscape Wild (Web | Print)
• Learn More: State Natural Shoreline Contacts (Web | Print)

Pictures
• View, download, and use the pictures from this project

Funding for this publication was provided through the Association of Fish and Wildlife Agencies as well as the Sport Fish and Wildlife Restoration Programs of the United States Fish and Wildlife Service