Established in 2009 with the mission to, "Work together to protect, rehabilitate and enhance sustainable fish habitats in glacial lakes of the Midwest for the use and enjoyment of current and future generations," the MGLP has always focused on glacially formed lakes in the Midwest. The MGLP's new footprint allows the partnership to better achieve this goal.
If you're new to the partnership, check out our education and outreach products such as the Shoreline Living publication, our science and data products like the Lake Conservation Planner, and our Lakes Conservation Grant coming out later this week.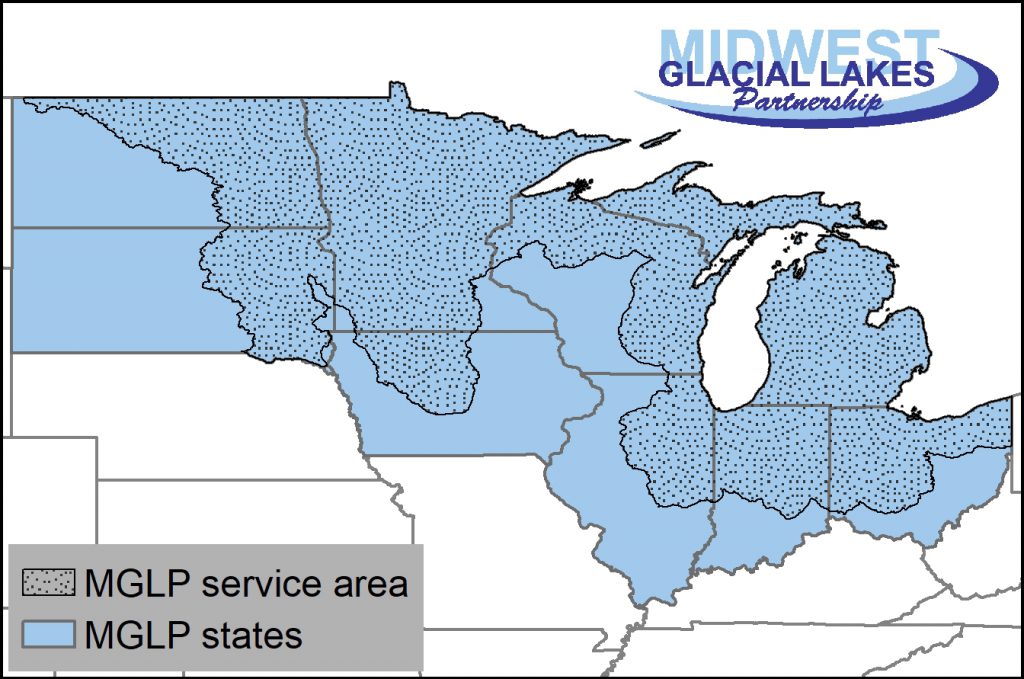 The new boundary adds the Midwestern state of Ohio to the east. The Buckeye State's over 100 glacially formed lakes support similar fisheries and face similar threats to those in the rest of the partnership. This new addition enables partners in Ohio to take advantage of the MGLP's science, outreach, and conservation grant opportunities.
To the south, the partnership adopted a boundary that reflects the southern extent of the Late Wisconsin glaciation as delineated by the USGS. Within this region, glacial lakes were generally formed within the last 35,000 – 11,150 years and share similar characteristics as a result.
To the west, the partnership used the WWF Freshwater Ecoregions of the World to separate watersheds of the Mountain West (i.e., the Upper Missouri) from those more Midwestern in character (i.e., the Winnipeg Lakes and Middle Missouri ecoregions).
The northern border of the MGLP continues to be the Canada-United States border.
Within these new boundaries, lakes that were formed by glacial processes and whose extent and bottom contours are still significantly defined by those origins are considered partnership lakes. This definition includes, for example, glacially formed lakes with water level control structures or small dams, but does not include water bodies that are best characterized as reservoirs or gravel pits. While public access is important for providing fishing and recreational opportunities and is strongly preferred for the MGLP Lakes Conservation Grant, it is not required for a lake to be considered part of the partnership.
The new MGLP boundary identifies the official extent of the MGLP, but the MGLP recognizes that some products are more effective for our partners if the products include entire states. So, some MGLP products will extend beyond the official extent. For example, in areas of partner states that are outside the partnership boundary, all lakes greater than 10 acres will be included as the MGLP updates its lake database. This will allow partners operating at the state level to take advantage of MGLP resources throughout their state.