Anglers know that to catch many fish species, they should target their fishing near coarse woody habitat such as fallen trees. Fish seem to congregate there, so they must be good for fish populations, right? Greg Sass and others reviewed the literature on coarse woody habitat in inland lakes and introduced a novel study that will help to provide new insights. Their publication will be part of a Midwest Glacial Lakes Partnership-organized issue in the journal Lake and Reservoir Management focusing on managing fish habitat and fisheries affected by habitat.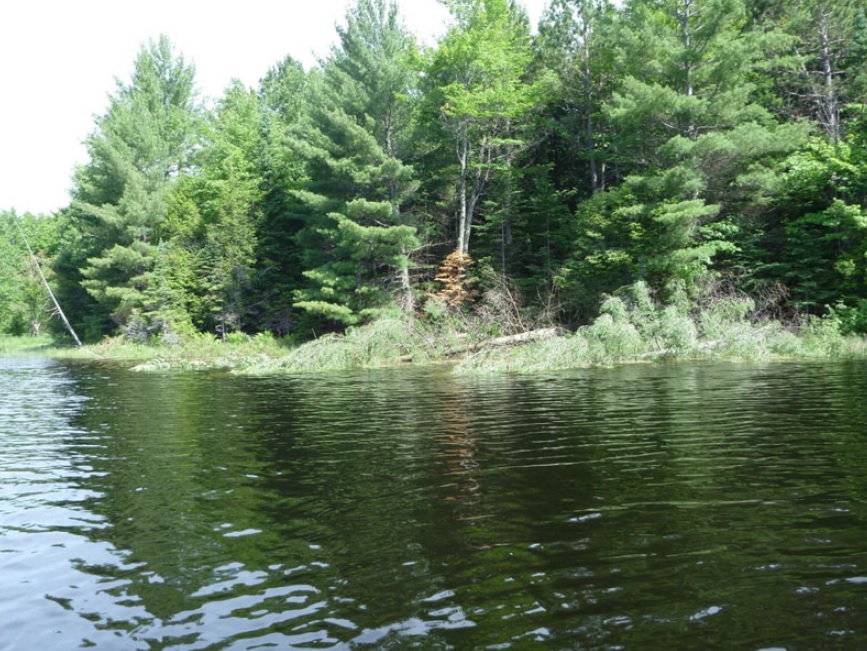 Sass and coauthors' review concluded that it is clear that mechanisms for coarse woody habitat to benefit fishes include provision of nutrients, refuge from predators, substrates for spawning, and others. The most direct tests of these mechanisms are three whole-lake studies that removed or added large woody habitat to lakes.
The first study (Smokorowski et al. 2006) removed about 55% of coarse woody habitat from three lakes in Ontario and found that while water chemistry was generally not affected, coarse woody habitats did provide localized sources of periphyton (algae and other organisms living on the substrate's surface) and insect production that were likely important to the food web.
The second study, Sass et al. 2006, conducted a coarse woody habitat removal in a treatment basin on a Wisconsin lake and concluded that the loss of Yellow Perch in their lake's treatment basin was due to lack of spawning habitat (Yellow Perch deposit eggs on structural habitats like large wood) and predation on young Yellow Perch that lacked the refuge provided by coarse woody habitat. They further observed that Largemouth Bass growth rates declined, and noted that the Yellow Perch and Largemouth Bass results mirrored another whole-lake study in which coarse woody habitat became unavailable due to drought (Gaeta et al. 2014).
Finally, Sass et al. (2012) completed a whole-lake addition of coarse woody habitat and found that Largemouth Bass behavior and diets changed. The authors attributed the lack of fish population changes observed in the experiment to the need to cut the experiment's post-monitoring short due to a drought lowering lake water levels and stranding the experiment's large wood.
The review concludes by describing a new, long-term study that will monitor the effects of stepwise increases in coarse woody habitat to a Wisconsin lake over the course of twenty years. The study is adding coarse woody habitat at natural densities (about one tree every 8 feet of shoreline) and will test a number of hypotheses related to the effects of coarse woody habitat additions on aquatic and terrestrial species as well as the resulting fisheries. Sass added "Additions of coarse woody habitat are becoming a common tool used by fisheries managers, stakeholders, and lakeshore residents to enhance or restore littoral zone fish habitat. We are excited about the knowledge that will be gained from our current research because we are studying new fish species (walleye, muskellunge, smallmouth bass, panfish) at a larger spatial scale and over a longer timeframe. Ultimately, we are testing whether adding coarse woody habitat can increase the amount of fish a lake can sustain, which can be negatively influenced by lakeshore residential development and associated coarse woody habitat removals and thinning of the riparian forest".
Are you considering a large wood addition on a lake? If so, the Wisconsin Department of Natural Resources has developed the Fish Sticks Best Practices Manual, which is an excellent resource. The manual stressed the importance of using full crown trees, which provide naturally-formed habitat complexity and diversity, as opposed to less natural Christmas tree, fish crib, or structures that aren't made of wood. Additionally, the manual emphasized the importance of harvesting trees from upland areas to allow trees in the riparian zone to continue reinforcing shorelines with their roots and to (eventually) fall into the lake naturally.