Midwest Fisheries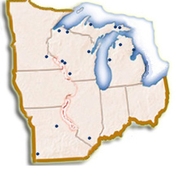 Fish and Wildlife Service
He was a legend, at least in terms of piping plovers. After tens of thousands of miles migrating between Michigan and South Carolina, 15 breeding seasons and raising 36 chicks, BO:X,g, also known as Old Man Plover, finally disappeared this season. It was inevitable; the Old Man likely finally fell to one of the many plover predators. But when he disappeared, the wheels of the Great Lakes Piping Plover recovery effort kicked into high gear.  Monitors at Sleeping Bear Dunes National Lakeshore alerted the Service that BO:X,g's nest may have been abandoned.
What is a hero? Ask any of the federal wildlife officers who work on national wildlife refuge lands across the country if they are heroes and they're probably going to blush and look a bit uncomfortable. If heroes are people who repeatedly put themselves in harm's way to protect others, that's exactly what they are.
Before you pack up the car and hit the road this summer, consider adding one more destination to your journey. With scenic overlooks, walking trails and live animals on site, 2017 is the summer the U.S. Fish and Wildlife Service invites you to discover your national fish hatcheries. Ready for an adventure? Many hatcheries sit tucked away in rural areas or small towns. Here in the Midwest we have six national fish hatcheries. For the thrifty traveler, you should know that all hatcheries are free!
When you hear the word refuge, what does it mean to you? It's a simple question, but one which can elicit a variety of responses depending on your perspective. For us, refuges are biologically diverse places for fish, wildlife, and people. They are places to have fun, places to be happy. The question came up recently as more than 200 Sigma Beta Club youth and their mentors came out to spend a day with us at Historic Fort Wayne in Detroit, Michigan.
Check out our best stories from around the web and social media. This week features kingfisher territory, turtle time, loon lunches and more!