Midwest Fisheries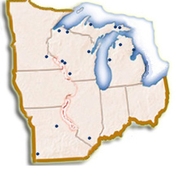 Fish and Wildlife Service
On June 21, 2017, Deputy Regional Director Charlie Wooley joined Missouri Department of Conservation Director Sara Parker Pauley and other representatives from the State of Missouri and the Missourians for Monarchs collaborative to celebrate Missouri Governor's Eric Greitens' proclamation that June 19 - 25, 2017 is Pollinator Week in the State of Missouri. The proclamation ceremony was held in Jefferson City, Missouri, at the Carnahan Memorial Garden outside the Governor's Mansion.
Monarch butterflies and pollinators are in trouble. You can help by planting a pollinator garden! You can plant a garden anywhere - your yard, school, church, business or even in a pot for your front steps. A simple, native flower garden will attract beautiful butterflies to your yard and help pollinators stay healthy. In addition to nectar from flowers, monarch butterflies need milkweed to survive, so if you notice the leaves on your milkweed have been chomped, don't worry, it's a great sign!
The Ohio Pollinator Habitat Initiative is working to engage all Ohioans with monarch conservation, including nontraditional conservation partners. One such partner has answered the call to save the monarch - the Ohio Department of Rehabilitation and Correction.
Today marks the start of pollinator week! A pollinator can be a bee, beetle, ant, wasp, butterfly, moth, hummingbird, bat or even a small mammal. These creatures assist a vital life stage for all flowering plants - something essential for healthy ecosystems.
Check out our best stories from around the web and social media. This week features a great catch, mini mallards, pollinating moths and more!