Lakes Find Restoration Success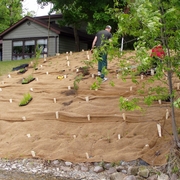 Iowans value water quality and desire safe, healthy lakes that provide a full complement of aesthetic, ecological and recreational benefits. Clean lakes improve the quality of life for Iowans and are compatible with economic growth.
Lake restoration successes at Lake Ahquabi (Warren County) and Lake of Three Fires (Taylor County) show that significant improvement in water quality can be expected following lake restoration.